5 Best Sedans of 2022 and 2023
Sometimes, a sedan is more than what you need. If you're still deciding which type of vehicle to buy this year, you might want to look around the line of sedans that went out sometime in 2021 and this year 2022.
Sedans are often right in the middle of solo riders and family-friendly vehicles. It fits almost any lifestyle and functionality! Sedans also boast advanced technology, trims and space that fit the budget.
We put together a list of the best sedans you should drive in 2022!
Best Sedans of 2022 and 2023
We base our rankings on published reviews from known and respected critics as well as third-party sources.
2022 Hyundai Accent
In spite of its bargain-basement price, the Hyundai Accent offers dignified styling despite its low price.
The 4 cylinder engine comes with a 120 horsepower continuously variable automatic transmission (CVT). This engine delivers power and saves fuel at the same time. Modern conveniences and even some luxuries can be found within the functional interior. Under $21,000, the loaded Limited model offers heated seats and touchscreen infotainment. Regardless of which trim you choose, the Accent looks mature and contemporary.
A new anti-theft immobilizer will be standard for both the base SE and midrange SEL models of the Accent for 2022. Accent has decided not to offer a manual six-speed transmission in the 2022 model year. The rest of the Accent remains unchanged.
Powered by a 1.6-litre four-cylinder engine that produces 120 horsepower, the Accent's CVT drives the front wheels.
Although the Accent is small, its body remains lively, and it can be easily thrown into corners. Pushing it is even rewarding. The suspension smooths out rough roads adequately, but harsh impacts will generate cabin vibrations.
The Accent has great fuel-economy numbers, which is what you'd expect from a small car. As a result of the four-cylinder engine's improved fuel efficiency, it now gets 36 mpg combined.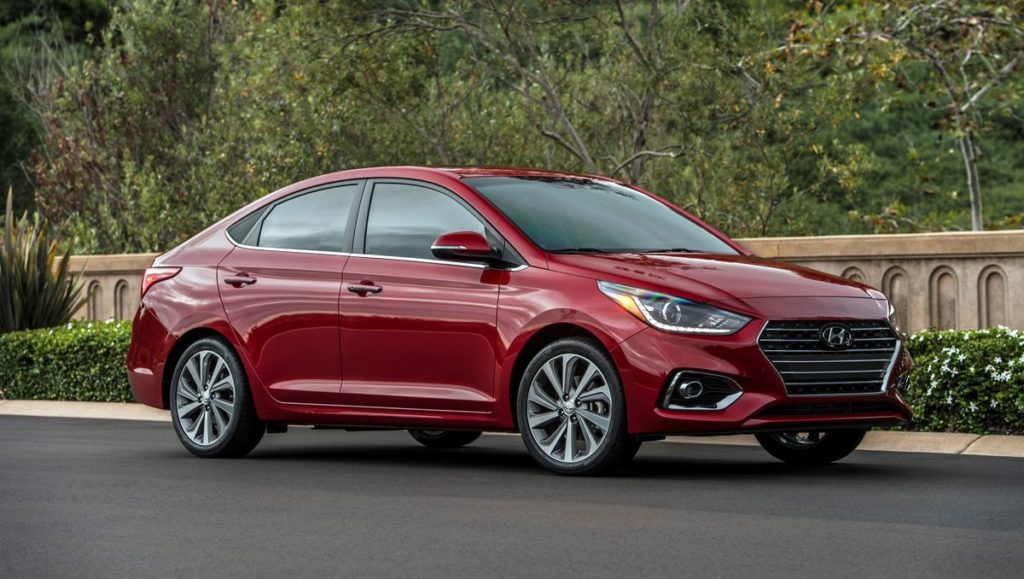 2022 Volkswagen Jetta
Volkswagen's Jetta 2022 is a surprisingly refined and roomy small car despite its compact classification.
There is a noticeable level of quietness and smoothness in the VW. A turbocharged four-cylinder engine with 158 horsepower is available, as is a manual transmission, which offers some extra engagement. If you want a more exciting driving experience, the GLI is the right choice. In addition, the standard Jetta offers a number of useful infotainment features and active safety features.
The car features 17-inch wheels and an electronically controlled locking front differential, in addition to its own distinctive styling. Among the new features on the base S model are an 8.0-inch fully digital gauge cluster and driver assists like automated emergency braking and blind-spot monitoring.
The front wheels of every Jetta are powered by a turbocharged 1.5-litre four-cylinder engine that delivers 158 horsepower and 184 pound-feet of torque. Six-speed manual transmission is standard, but an eight-speed automatic transmission is optional.
Jetta's cabin is spacious and offers a sophisticated design.
2022 Kia K5
Despite being classified as a family sedan, the 2022 Kia K5's exciting design and 290-hp engine suggest a more performance-oriented vehicle.
All 2022 K5 models feature Kia's new logo, and several features have been added across the lineup. USB ports are now available in the rear seats of the front-drive LXS. A new all-wheel-drive trim is offered for $1600 in the GT-Line, down from $3700 in last year's package. A significant change is the 10.3-inch touchscreen infotainment system that is now standard instead of the previous 8.0-inch unit. On the centre console of all GT-Line models, you'll find a wireless smartphone charger as well. A new 360-degree camera system is offered on both the EX and GT, as well as power-folding exterior mirrors and front parking sensors.
With an eight-speed automatic transmission, most K5 models are powered by a 180-hp turbocharged 1.6-litre four-cylinder. All-wheel drive is available on the GT model, but it is not standard. 
With the base four-cylinder engine and front-wheel drive, the 2022 K5 should achieve a city fuel economy of 29 mpg and a highway fuel economy of 38 mpg.
For how much it costs, the K5 looks amazing on the inside. This cabin layout is both sophisticated and straightforward, and it has wood trim on the doors and dash to add an attractive touch.
2022 Toyota Avalon
The 2022 Toyota Avalon features a sleek design. In addition to the V-6 or hybrid powertrain, the Avalon's spacious cabin is all-day comfortable, and it features a front-wheel drive system. The car comes standard with a comprehensive suite of driver-assistance features and an infotainment system that has almost everything a modern driver needs without too much hassle.
Toyota has announced that the 2022 Avalon will be the last model year for the large sedan. Production will stop in August 2022.
For the Avalon's last model year, all-wheel-drive will no longer be an option. The sporty TRD variant has also been discontinued. There is no longer a Hybrid XSE model without the Nightshade appearance package, and all models are now equipped with a rear seat reminder. Collision avoidance systems based on cameras and radar have also been upgraded for the car's driver assistance features.
There are two powertrain options for the Toyota Avalon: a gasoline-only model or a hybrid model. The standard engine is a 3.5-liter V-6 that delivers 301 horsepower and 267 lb-ft of torque. All four wheels are driven by an automatic transmission. In 6.0 seconds, the V-6 accelerates the Avalon to 60 mph. Hybrid trim levels come with a 2.5-litre four-cylinder engine and two electric motors.
Gas-only Avalons can achieve up to 22/32 mpg city/highway, according to the EPA. In highway fuel economy testing, both the V-6 and the four-cylinder with all-wheel drive achieved 34 mpg. According to the EPA, the Avalon hybrid achieves up to 43/44 mpg.
Compared to previous generations, the current Avalon represents a big step up in cabin design.
2022 Mercedes-Benz A-Class
Mercedes-Benz's A-class is an entry-level vehicle equipped with the performance and style of an S-class luxury sedan. Its lavish exterior makes it look right at home among the rest of Mercedes' lineup, and its modern, tech-filled interior delivers much the same experience as pricier models. The A-class's handling is relatively spry, thanks to a turbocharged four-cylinder engine.
An extensive selection of standard equipment is included in the A220. On the outside, the car is equipped with 17-inch wheels, automatic LED headlights, rain-sensing wipers, and heated side mirrors with turn signals. The cabin benefits from natural light due to each model's panoramic sunroof. With standard features that include 8-way power-adjustable front seats, simulated leather upholstery, and dual-zone automatic climate control, passengers enjoy unparalleled comfort.
Among the engine options offered in the 2022 A-class is a turbocharged 2.0-liter four-cylinder generating 188 horsepower and 221 pound-feet of torque. All-wheel drive is standard with the A220, while front-wheel drive is standard with the A220 4Matic. Gear changes are handled by a seven-speed dual-clutch automatic transmission. 
In the city, the Mercedes-Benz A220 is expected to achieve 25 mpg and on the highway 35 mpg according to the EPA.
A Mercedes-Benz sedan has an interior that has a premium look. The centre stack is embellished with a trio of circular air vents, and upscale options such as leather upholstery, heated seats, and LED interior lighting are available. The A-class is a great car for those who commute for long periods of time, thanks to the comfortable front seats. With a standard folding back seat that splits 40/20/40, you can accommodate items too large to fit in the trunk.
Conclusion
This list compiles our choices from different categories to better give you an idea of how cars differ in each class. Hopefully, you've learned the great features you need to watch out for as you shop for your first or even next sedan.
Do you have a suggestion for the best sedans of 2022 and 2023? Drop them in the comments!
Looking for the Best SUVs of 2022 and 2023?