Jeep® unveils the Avenger 4xe Concept at the Paris Motor Show
At the Paris Motor Show, Jeep® offered additional thrill and surprise by revealing the Jeep Avenger 4xe Concept.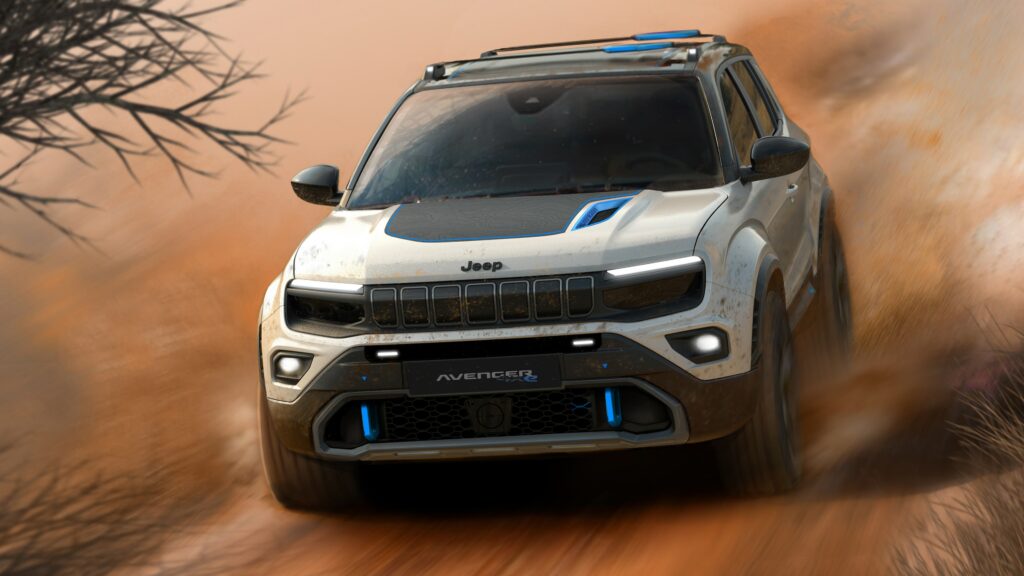 Introducing the Avenger 4xe Concept at the end of the press conference, Jeep CEO Christian Meunier said: "The Avenger was designed as a Jeep from the start, and the 4×2 model already offers some of the best capabilities in its class that identify the Jeep brand."
"But we couldn't help but wonder what would happen if we injected four-wheel drive into such a compact package while retaining the brand's unique design, capability, and personality," he added during the introduction of the Jeep Avenger 4xe Concept.
Illustrating the new Jeep Avenger's "package of freedom" philosophy, the 4xe Concept combines design, capability, and innovation in a compact body. Eye-catching, fun, and distinctive, the newcomer will be added later to Jeep's 4xe lineup.
Externally, the 4xe Concept has towing hooks marked in blue, fender flares equipped with air extractors and it is equipped with more aggressive tires to evolve in all paths. To further improve the capabilities of the Jeep Avenger, the angle of attack has been improved to 21 degrees, the departure angle to 34 degrees, and the ventral angle to 20 degrees, thanks to the ground clearance which exceeds now 200mm.
The front end features additional protection, with thicker cladding and additional spotlights that have been integrated under the grille to improve visibility when driving at night.
The Avenger 4xe Concept features a new lightweight roof cargo system which, along with a special system of straps, compresses luggage onto the roof. The latter has anti-scratch protection along its entire length. The package is completed with an anti-glare hood decal and anti-scratch grille treatment for added peace of mind when driving down the trails.
The Avenger 4xe Concept represents the ultimate expression of Jeep's legendary capabilities, enhanced by electrification, a combination that benefits drivers and passengers to give them more pleasure and freedom while driving in near total silence.
Concluding the presentation, Christian Meunier said: "Here in Paris, we have shown that we have a full range of new fully electric Jeep models with a clear goal in mind: to become the number one electrified SUV brand in the world. as we continue our journey towards realizing our mission of zero emissions freedom."
The all-electric Avenger joins a portfolio of 100% electrified Jeep vehicles in continental Europe.
RECENT: The all-new Jeep® Avenger unveiled at the Paris Motor Show, the first 100% electric Jeep