The all-new Jeep® Avenger unveiled at the Paris Motor Show, the first 100% electric Jeep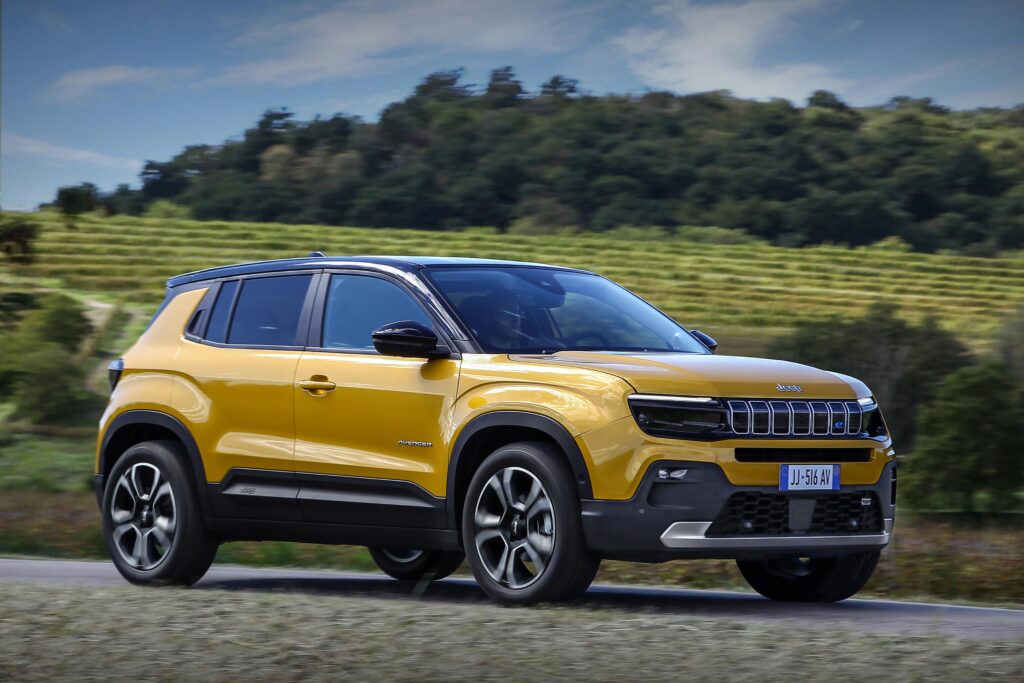 Today at the 2022 Paris Motor Show, the Jeep® brand unveiled the all-new Jeep Avenger, the brand's first Battery Electric Vehicle (BEV).
The Jeep Avenger spearheads the introduction of a range of right-sized, capable all-electric vehicles for Europe and is a key part of a global electrification strategy as the brand expands, poised to become the world leader in zero-emission SUVs.
Designed and built like a Jeep from day one, the Avenger packs Jeep DNA into a compact SUV with a unique combination of capability, style, functionality, and sophisticated technology to meet the needs of increasingly connected customers.
"The new Jeep Avenger represents a key milestone for the brand, as it is the first model in a range of all-new Jeep BEVs to be introduced in Europe," said Christian Meunier, CEO of the Jeep brand. "It offers the capabilities of a Jeep adapted to the European market and, on the occasion of this Paris Motor Show, we explain why it is an excellent alternative to current players in the B-SUV segment."
Produced at Stellantis' Tychy plant in Poland, the new Avenger comes standard with Selec-Terrain and Hill Descent Control, which, with its exceptional angles of attack and departure and high ground clearance, brings levels of impressive capacity to the segment.
In terms of electrification, the Jeep Avenger features a next-generation 400-volt electric package that combines a new electric motor and a new battery.
Using a mode 4 cable connected to a 100 kW DC fast charging station, three minutes of charging is enough to provide a travel distance of 30 km. In addition, 24 minutes is enough to go from 20 to 80% battery charge.
Avenger's new mission in Europe
Developed with the specific needs of European customers in mind, the new Avenger is a compact SUV that, at just four meters long, positions itself in the growing B-SUV category, the second-largest European segment in terms of volume.
In 2023, the B-SUV segment is expected to reach an annual total of 2.2 million sales, or one in five vehicles sold in Europe. The new Avenger is positioned below the Renegade to complete Jeep's offering in this segment.
"The Jeep Avenger is the first zero-emission Jeep," said Antonella Bruno, Head of Jeep Europe at Stellantis, "It will be the new entry point to the Jeep range and will complement our SUV coverage and we hope it will become our bestseller by 2024. Avenger adds another level of electrification and represents another step in the evolution of the Jeep brand."
"Jeep Avenger delivers emotion, and fun, and stands out with its personality," she added.
The Jeep Avenger hits dealerships early next year, but customers can already pre-book the exclusive 1st Edition version, a fully equipped, all-electric version available from €249 per month in most markets and in France. Customers can access pre-booking at the following address https://bethefirst.jeep.fr
This makes it a valuable and attractive choice for those looking for a zero-emissions alternative away from the more traditional players in the segment. The new Jeep Avenger aims to broaden the customer base targeting active people looking for a modern design with compact dimensions and a spacious, roomy interior.
All-new electric motor
The Jeep Avenger features a next-generation electric package that combines a new electric motor and a new battery.
Thanks to high power and torque, in addition to a specific calibration of the electric motor, the new Avenger offers uncompromising driving pleasure as well as all-road capability.
The second-generation 400-volt electric motor is the first to be launched by Emotors, a joint venture between Stellantis and Nidec Leroy-Somer Holding. It provides 115 kW (which corresponds to 156 horsepower), and 260 Nm of torque.
The new 54 kWh battery, also produced by Stellantis, offers high energy density and an excellent ratio between nominal energy and usable energy. More specifically, the battery is made up of 17 modules and 102 cells using NMC 811 lithium-ion chemistry and delivers up to 400 km of autonomy (WLTP combined cycle), and up to 550 km in the urban cycle.
The battery, tested over 2 million kilometers, is extremely compact and is located under the front and rear seats and the central tunnel. Plus, it's protected by high-ground clearance and underbody skid plates.
Recharging the new Avenger is extremely simple. Via a 100 kW DC mode 4 cable, connected to a fast charging station, three minutes are enough to provide a travel distance of 30 km and 24 minutes are enough to go from 20 to 80% charge.
Given that European users drive an average of 30 km per day, it is likely that the vehicle could be driven for days before recharging. In the meantime, with an 11 kW Mode 3 AC cable connected to a Wallbox or public station, it is possible to "refuel" (from 0 to 100%) in 5.5 hours.
Most important capacity
An essential pillar of a Jeep SUV remains its evolutionary capabilities which today offer a more ecological approach thanks to 4xe plug-in hybrid technology and now fully electric.
The new Avenger is the first front-wheel-drive Jeep equipped as standard with Selec-Terrain and Hill Descent Control which, together with the impressive approach and departure angles and high ground clearance, make it a benchmark in the segment.
The Selec-Terrain system offers six modes: "Normal" for everyday driving; "Eco" to improve autonomy; "Sport" for more driving pleasure; "Snow" for maximum traction on snowy roads or icy trails; "Mud" to optimize performance in mud and improve grip; and "Sand" to limit the risk of getting stuck on sandy ground.
The new Avenger is only 4.08 meters long, 16 centimeters shorter than the Renegade. It has short front and rear overhangs which enhance its proportions. Plus, its road presence is enhanced by larger wheels than you'd expect from a vehicle of this size.
With the combination of short overhangs and large wheels, the Avenger offers best-in-class ground clearance (200mm), as well as angles of attack (20°), ventral angle (20°), and leakage (32°), essential for off-road driving but also useful in city life, for example when driving on a steep parking ramp.
Contemporary Jeep Design
The Avenger follows a "design approach" offering a modern interpretation of Jeep design in a compact package. The front of the vehicle features the iconic 7-slot grille, an authentic signature of the Jeep brand that has evolved from a vertical pattern to a more horizontal pattern for improved efficiency.
The slightly curved grille is positioned in front of the headlamps to protect them in the event of an impact.
Dished fenders, another classic Jeep design cue, provide a sense of strength and ruggedness while communicating a solid, commanding presence on and off the road.
The profile is marked by the classic trapezoidal wheel arches, designed to optimize wheel travel for maximum articulation. The vehicle is equipped with imposing 18-inch wheels, with a robust design and diamond finish, mounted on 690 mm diameter tires. The silhouette has been carefully designed to maximize aerodynamic efficiency and convey a feeling of dynamism, enhanced by the floating "C" pillar, which is found in the current range.
At the rear, the vehicle features signature jerrycan-inspired lights that sported an "X". This 'X' is a recurring theme inside and out via 'X-Camo', a pattern that combines the notion of camouflage with the letter 'X'.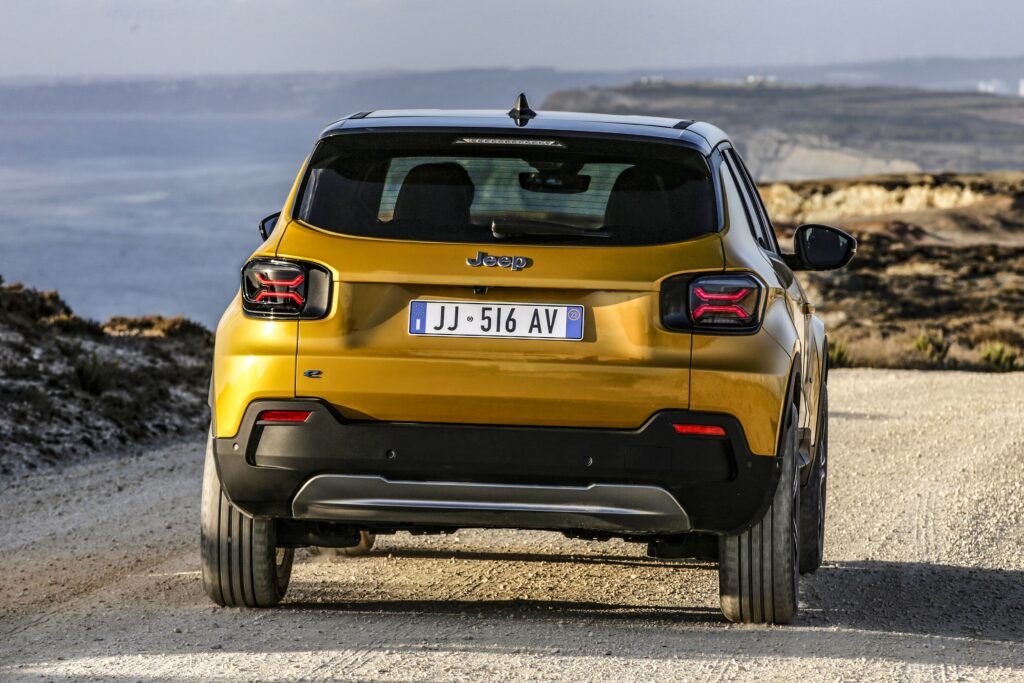 360 degree protection
In order to reduce the damage caused by low-speed impacts, which represent approximately 70% of cases in Europe, the new Avenger is equipped with protective skis, a black plastic protection that goes around the body and headlights protected.
With these additions, it has been estimated that a customer can reduce potential accident damage costs by around €1,000. Specifically, the headlights and taillights are recessed and positioned high for less impact exposure at low speeds. In addition, the polymer protective skis are tinted in the mass.
For example, if they are scratched, the damage is not visible.
In addition, in some sensitive areas, the coating is even thicker. Greater protection was also provided to the doors.
RECENT: Mitsubishi Motors Announces Full Trim-by-Trim Pricing for All-New 2023 Outlander PHEV
Functional and spacious interiors
The principles of "Design to Function" can best be seen inside Avenger. The minimal and rugged interior was inspired by Jeep history and in particular the Wrangler.
Once inside the vehicle, the eye is immediately drawn to the upper part of the dashboard where there is a single horizontal strip which groups together all the air vents, the ambient lighting and a central touch screen of 10.25 inches, visible to both driver and passenger. The bottom of the dashboard reveals a wide open storage space.
The new Avenger has unique details in its segment such as electrically adjustable leather seats with a massage function, multi-coloured mood lighting which reduces eye strain when driving at night and the glass sunroof. The vehicle's taillights remain visible when the tailgate opens for added protection and safety.
Designed to ensure the greatest possible interior storage space in a compact body, the new Avenger has the most in its class: 34 liters of storage in the front, an impressive figure considering that the segment average is 15 liters .
This extraordinary result has been achieved by optimizing all the spaces and creating functional and spacious storage compartments, sufficient to store the contents of an entire aircraft cabin baggage inside.
Designed with flexibility and modularity in mind, the center tunnel can be moved to accommodate the size of various objects or even removed to make room for larger items. Another useful space is available under the automatic transmission buttons and protected by a magnetic folding cover. In this space, a mobile phone can be charged while simultaneously storing a 1.5 liter water bottle.
Functional design rules have also been applied to the trunk. Its volume is among the best in the segment (380 litres) and its functionality is reflected in its boot loading sill height which has been lowered to 720 mm, the width of the rear tailgate which has been increased to more than one meter and the addition of a hands-free power tailgate which is not usual in the segment.
State-of-the-art technology: always connected
Designed for "always connected" customers, the new Jeep Avenger guarantees a fully digital on-board experience. State-of-the-art infotainment is present on all versions, equipped with a 10.25-inch Uconnect touchscreen multimedia system combined with an all-digital handset available in two variants (7 and 10.25 inches).
Smartphone-like graphics are integrated into the Uconnect 10.25″ system. In addition, the system offers mirror mode of Android Auto and wireless Apple CarPlay. The system also allows to create its own interface (up to 12 widgets per page, up to 6 pages) Navigation integrated by TomTom with natural voice recognition has been improved, and Avenger has remote updates (Over the air).
The new Jeep Avenger also offers a suite of services and features that users can enjoy remotely. For example, through the Jeep Mobile App, users can locate their car's location directly from their smartphone. UConnect Services can even lock and unlock doors, check battery level, adjust climate control functions and charge the vehicle, as well as interact directly with the Avenger via a voice assistant.
Segment leader in safety
The Jeep Avenger offers a full suite of safety features. It features Level 2 autonomous driving, which automatically adjusts speed and trajectory, and uses adaptive cruise control and lane centering. This way, the car stays centered in the lane and at a safe distance from the vehicle in front to provide a serene driving experience. Plus, Level 2 Autonomous Driving includes Traffic Jam Assist, for relaxed and comfortable driving, even in heavy traffic.
Avenger also features traffic sign recognition, which reads and interprets traffic signs; Autonomous emergency braking with detection of pedestrians and cyclists, which slows the vehicle to a stop to avoid (or mitigate) possible accidents; Driver drowsiness detector, which alerts the driver in case of lack of attention; Blind spot monitoring; Line crossing alert with correction; 360° parking sensors with active parking assistance and 180° reversing camera with drone view.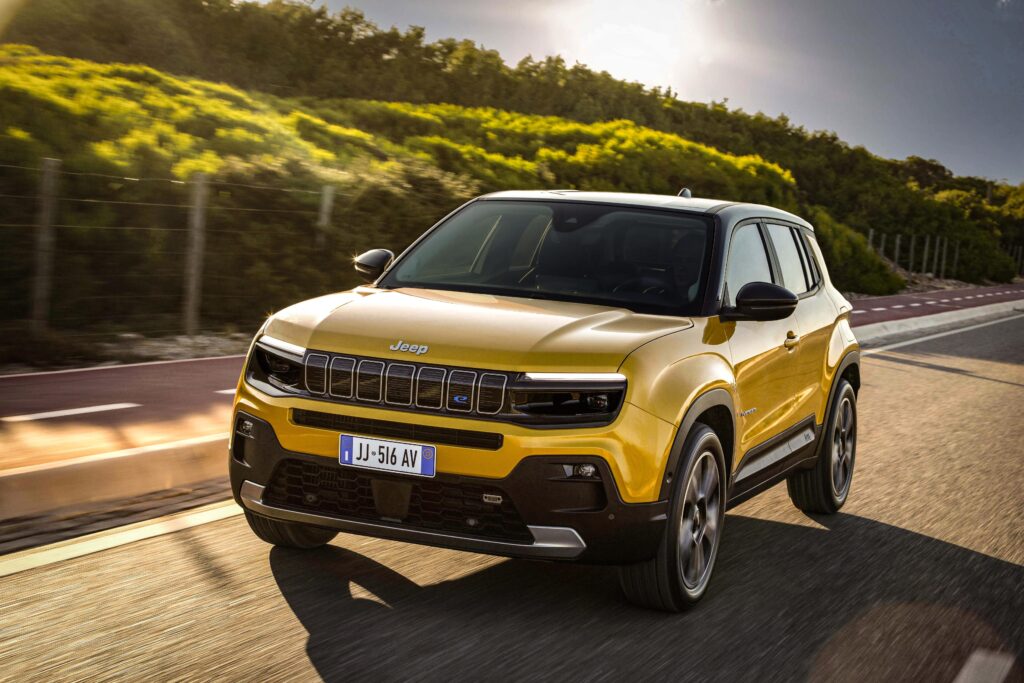 Jeep Avenger 1st Edition
From today until November 30, a pre-booking device is dedicated to the new Jeep Avenger 1st Edition – an exclusive, fully equipped configuration at a single price. This is an opportunity not to be missed, as this release will only be available to order when it arrives at distributors by those who initially expressed interest online.
Once on the website, the user can access a dedicated platform to choose their favorite color and the dealer of their choice.
Available from €249 per month in France – LLD Leasys offer for 24 months/20,000 km and a contribution of €3,500 after deduction of the ecological bonus (€6,000) and the conversion premium (€2,500) – the Jeep Avenger 1st Edition offers a two-tone livery – Sun Yellow with Volcano Black roof or Granite Gray with Volcano Black roof – or a plain Volcano Black livery enhanced by dark-tinted rear windows, full LED front and rear lights, and aluminum rims. 18-inch alloy wheels, which underline its personality on the road. The interior includes multi-coloured mood lighting and a yellow insert on the dashboard; premium heated black seats with yellow accents; de-icing of the windshield wipers; a center console cover; a modular and reversible boot floor and a hands-free electric tailgate.
In addition, the launch version offers a host of equipment unmatched for the segment, as evidenced by the multimedia system with Uconnect 10.25″ touchscreen, the 10.25″ digital instrument cluster, the Apple wireless connection CarPlay / Android Auto and smartphone charging by induction.
The new Jeep Avenger 1st Edition is equipped with level 2 autonomous driving. There is also automatic air conditioning, blind spot system, electrochromic rearview mirror, electrically folding and heated side mirrors, 360° parking sensors with reversing camera and a Mode 3 cable for charging.
For the French market, the Jeep Avenger 1st Edition launch offer will offer its buyers the choice between a participation of €400 for the acquisition and installation of an eProWallbox or a public charging credit of an equivalent amount ( €400) via the Free2Move eSolutions Charging app.
Exclusive customization with over 100 accessories
As is tradition at Jeep, the new Avenger can be personalized with specific accessories and packs.
The Jeep Avenger will offer more than 100 accessories allowing complete customization according to the customer's needs that will make the customization of their SUV unique.
Personalized Avenger on the Mondial de l'Auto stand
On the stand at the Paris Motor Show, a Jeep Avenger in Granite Gray with a Volcano Black roof, customized with an "X-Camo" hood sticker with Avenger logo and blue accents. The vehicle is also equipped with 18-inch "Gloss Black" alloy wheels with blue details in reference to the electric drive.
The interior features a center console lid with the "e" logo in blue on the outside and an "X-camo" pattern on the inside; rubber mats in the storage compartments on the dashboard and the central tunnel with "X-camo" pattern; premium floor mats with car silhouette logo.
Built in the factory in Tychy, Poland
The Tychy plant (Poland), built between 1972 and 1975, occupies an area of ​​more than 2.4 million square meters. A car rolls off the factory line every 50 seconds.
Production at Tychy has been repeatedly awarded the Bronze, Silver and Gold program of the WCM (World Class Manufacturing) program in recognition of constantly improving products, processes and services to remain an industry leader and offer the best choice to customers.
The plant operates a complete production cycle consisting of four stages: stamping – managed by an external supplier since 1998; welding – which proudly benefits from 99.5% automation thanks to 921 robots working on the line; the paint line – more than 90% automated and the assembly operating two independent production lines. The Tychy plant has manufactured an impressive 12.5 million vehicles from the start of production in 1975 until September 2022. Significant investments have been made in Tychy for the manufacture of the B-SUV platform.