2022 XC40 Recharge features increased range, streamlined options, and complimentary Care Offer
The Volvo XC40 Recharge luxury compact SUV, the first of many pure-electric vehicles from the Swedish carmaker benefits from a range of enhancements for Model Year 2022.
Updates to the vehicle's powertrain have added an extra 24 kms of range. The pure-electric SUV is now estimated to deliver 359 kms on a single charge; and owners of existing 2021 models will also be able to increase range via a forthcoming software update. The new XC40 Recharge can charge from ten to 80 percent on a DC fast-charger in 33 minutes.
Also new for the 2022 model is a recently introduced heat pump, which has been designed to extend the vehicle's range by an additional 10 percent under certain cold climate conditions.
The new XC40 Recharge will be the first Volvo model to benefit from a comprehensive and simplified purchasing and ownership experience. One element will be the inclusion of a 'Care offer' which, in addition to roadside assistance and the full Volvo New Car Warranty, provides owners with complimentary maintenance service and wear coverage on select items for the first 4 years or 80,000 kms.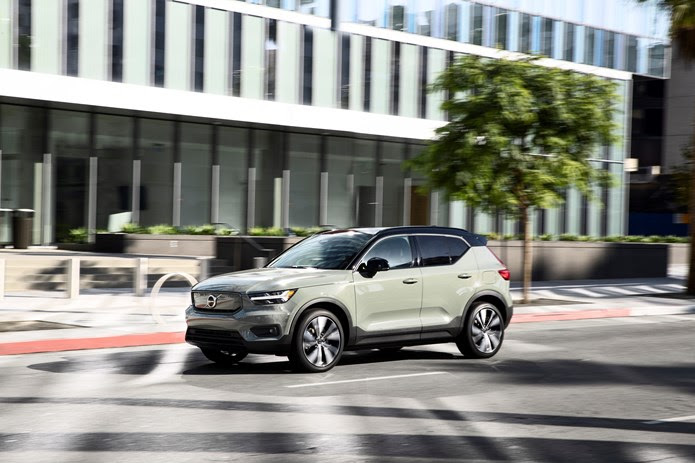 The 2022 XC40 Recharge debuts a new offer structure. Features normally contained in an option package, or as a single option, will now be streamlined into the specification levels of CORE, PLUS, and ULTIMATE.
The XC40 Recharge will start at the CORE level and will include the following highlights amongst it's standard features: Android Operating System with Google built-in, the Advanced Driver Assistance Systems (ADAS), the Digital Services package (4-year subscription with all data included), a 19" wheel, and All-Wheel Drive for an MSRP of $59,950.
The XC40 Recharge PLUS, includes all the features of the CORE level, and adds some features such as the Panoramic Sunroof, 360° Surround View Camera, an upholstery upgrade, LED fog lights, and Front and Rear Park Assist for an MSRP of $67,950.
At the ULTIMATE level, the XC40 Recharge comes equipped with every available feature, and includes Pilot Assist, the Harmon Kardon sound system, and the Climate Package, for an MSRP of $70,800.
All levels of the 2022 XC40 Recharge qualify for the government of Quebec's provincial EV incentive. With the incentive applied, the XC40 Recharge will start as low as $51, 950 in the province of Quebec.
"We're excited to launch this enhanced XC40 Recharge offering," said Matt Girgis, managing director of Volvo Car Canada Ltd. "Increased range and a streamlining of the purchase process presents Canadians with a flexible, convenient, and cost-efficient way to drive electric."
The 2022 XC40 Recharge is available for reservation on www.volvocars.com/en-ca/build/xc40-electric.
You may also be interested in: 15 Effective Tips On How To Keep Your Car's Value High