New DS 7: Refinement Is A Journey
A design enhanced by sharp lines and lit up by DS PIXEL LED VISION 3.0 and DS LIGHT VEIL
New DS 7's character comes from significant changes front and rear. Still elegant, New DS 7 introduces more dynamism with sharper, more structural lines.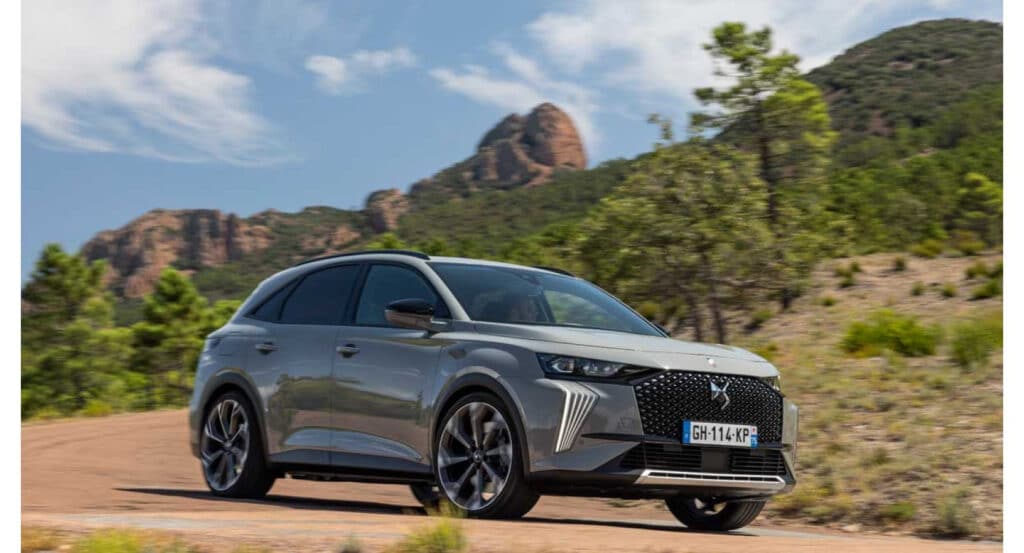 The completely new front stands out with sharper lines developing the balance of each feature. Specific work was carried out thanks to the close links between the DS DESIGN STUDIO PARIS team and our production team at the Mulhouse (France) factory achieving exceptional results in terms of quality and solidity.
The light signature is developing for an even more expressive look. The combination of new slimmer DS PIXEL LED VISION 3.0 headlamps and the DS LIGHT VEIL daytime running lights is seamless and accomplished as if it was high fashion.
DS LIGHT VEIL is a world first. The daytime running lights were inspired by work carried out on DS X E-TENSE and DS AERO SPORT LOUNGE. The light appears to shine through the bodywork colour. DS LIGHT VEIL is made up of a daytime running light and four vertical luminous features consisting of 33 LEDs.
This innovation comes from the manufacturing process: the laser-etched polycarbonate surface is only painted on the inside to give it a look that alternates between light and parts that are body coloured. It creates an effect of depth and brightness like a piece of jewellery. DS LIGHT VEIL flashes on and off on locking and unlocking.
DS PIXEL LED VISION 3.0 introduces a new technology that adds an extra dimension to the model line-up. New DS 7's PIXEL modules stand out by optimising the management of light output, while maintaining 3 identifying modules that feature on the entire range. The PIXEL function gives the benefit of optimum lighting. The light flow is more powerful, more regular with a range that's increased up to 380 metres (main beam). At less than 50km/h, the width of the beam is now 65 metres.
On the inner edge: two dipped headlight/sidelight modules illuminate together. On the outer edge the PIXEL main beam module features 84 LEDs in three rows. Lighting in corners is controlled by the intensity of the PIXEL module's exterior LEDs depending on the angle of the steering.
The DS WINGS have been redesigned with a range of colours depending on the model. The grille is wider and enhanced with subtle diamond-tip highlights and has been finished off with a completely redesigned valance.
The slimmer scale-like LED rear lights with a vortex effect have also been redesigned with a dark metallic finish. They emphasise the unique expression of New DS 7. The boot lid and badge have been reworked with sharper lines, while the "DS AUTOMOBILES" name now signs off New DS 7's visually wider rear.
The wheels play a part in the character of New DS 7's profile. Fitted with inserts, the new 19-inch EDINBURGH and SILVERSTONE rims improve aerodynamic efficiency while the treatment of their design magnifies their perceived diameter. New 21-inch BROOKLYN wheels, with a sculpted technical design are only available on New DS 7 E-TENSE 4×4 360.
The window surrounds and roof bars are offered with a Gloss Black variant emphasising the dynamism of the silhouette.
Six colours are being offered: The new Lacquered Grey and Sapphire Blue supplementing metallic Platinum Grey as well as the pearlescent Perla Nera Black, Crystal Pearl and Pearl White colours.
RECENT: Volkswagen announces new appointments to key positions on the Brand Board of Management
TECHNOLOGY AT THE CENTRE OF THE NEW DS 7 OFFERING
The infotainment system is one of the biggest changes for New DS 7 with the inclusion of DS IRIS SYSTEM. This solution introduces a totally reworked interface, that's completely configurable, reactive and seamless and supported by natural voice recognition.
The redesigned 12" high-resolution touch screen features a menu made up of widgets for accessing all its functions with a single movement: for controlling the connected navigation, the ventilation, the digital audio sources and journey information. This big screen that's very comfortable to use also enables views front and rear to be displayed, provided by new high-resolution digital cameras, and access to the Mirror Screen function over wi-fi.
A new large 12-inch digital instrument panel with displays that can be changed and personalised features refreshed graphics with all the vital information such as energy flow on plug-in hybrid versions.
UNIQUE TECHNOLOGY FOR THE SEGMENT
New DS 7 also introduces technology for more comfort and peace of mind such as DS ACTIVE SCAN SUSPENSION and DS NIGHT VISION.
DS ACTIVE SCAN SUSPENSION is a camera-controlled damping system that's completely unique in its class. It adjusts each wheel independently according to imperfections in the carriageway.
With DS NIGHT VISION, an infrared camera sweeps the carriageway and its edges to detect cyclists, pedestrians and animals at distances up to 100 metres. The driver receives the information in the new high resolution digital instrument display, reinforced by a special warning in the event of danger.
Safety is improved with DS DRIVER ATTENTION MONITORING and DS DRIVE ASSIST level 2 semi-autonomous driving.
DS DRIVER ATTENTION MONITORING analyses the driver's level of attention with two cameras. The first checks the behaviour of the car in its surroundings and the second, positioned facing the driver, diagnoses where they're looking, their face and eyelid movement which translates to the level of sleepiness and attention… This is unprecedented in the segment.
New DS 7 is equipped with DS DRIVE ASSIST, adaptive cruise control that can initiate stopping and restarting without the driver intervening and an aid that enables the driver to keep the car either where it is or where they position it in the lane.
A RANGE OF FIVE SPECIFICATION LEVELS AND FOUR DRIVETRAINS
The New DS 7 range revolves around five levels of specification with separate lines: BASTILLE, RIVOLI and OPÉRA on one side, PERFORMANCE LINE and PERFORMANCE LINE + on the other. The trims get additional standard equipment with a reduction in the number of options. The LA PREMIÈRE Limited Edition is only available as an E-TENSE 4×4 360 version.
Four powertrains, with three E-TENSE plug-in hybrid versions, are being offered.
THREE PLUG-IN HYBRID DRIVETRAINS
Double Formula E champion, E-TENSE technology makes up most of the New DS 7 range with versions having 225 horsepower and two-wheel drive, 300 horsepower four-wheel drive and 360 horsepower four-wheel drive.
In its 360 horsepower guise, the Grand Touring spirit is supported by special developments carried out by DS PERFORMANCE. The chassis has been lowered by 15 mm, the track is wider (+24 mm at the front, +10 mm at the back) and the front brakes go to 380 millimetres in diameter with DS PERFORMANCE-badged four-piston calipers.
New DS 7 E-TENSE 4×4 360 stands apart through its class-leading performance with a 200 horsepower petrol engine and electric motors on the front and rear axles with 110 and 113 horsepower (four-wheel drive) with weight kept at 1,885kg for a benchmark power-to-weight ratio in the plug-in hybrid segment.
Coupled with a 14.2 kWh battery, the electric motors enable zero emissions driving in acceleration or four-wheel drive for up to 62 km (WLTP EAER City) and 57 km (WLTP AER combined) with the capability of driving in 100% electric mode at up to 140 km/h. New DS 7 E-TENSE 4×4 360 is homologated for just 40 g/km of CO2 and fuel consumption of 1.8 litre / 100 km.
Fitted with Michelin Pilot Sport 4S 245/35 R21 tyres, New DS 7 E-TENSE 4×4 360 goes from 0 to 100 km/h in 5.6 seconds with a 1,000 metres start-stop covered in 25.4 seconds.
New DS 7 E-TENSE 4×4 300 (200 horsepower petrol engine with electric motors on the front and rear axles producing 110 and 113 horsepower) can drive in 100% electric mode at up to 135 km/h. The electric-only range is homologated at up to 81 km (WLTP EAER City) and 63 km (WLTP AER combined) for only 27 g/km of CO2 emissions and fuel consumption homologated at 1.2 litre / 100 km. The 0 to 100 km/h is covered in 5.9 seconds and the 1,000-metre start-stop is carried out in 25.9 seconds.
For New DS 7 E-TENSE 225 (180 horsepower petrol engine and a 110 horsepower electric motor on the front axle), the electric range is homologated at up to 80 km (WLTP EAER City) and 65 km (WLTP AER combined) for only 28 g/km of CO2 emissions and fuel consumption homologated at 1.2 litre / 100 km.
All hybrid systems are linked to a new 14.2 kWh battery whose charging time is about two hours on a 7.4 kW charger.
A Diesel engine is also available
New DS 7 is still offered with a BlueHDi 130 Diesel engine mated with an 8-speed automatic gearbox. Featuring a variable geometry turbo and high-pressure direct injection, it has all the latest technology for consumption homologated at 5.5 litres / 100 km and CO2 emissions of 143 g/km.
OPÉRA: French-style elegance
A benchmark for refinement, New DS 7 introduces two lines for its OPÉRA specification: Basalt Black and the new Pearl Grey colour. This trim is available on all powertrains.
In the spirit of designs from the best craftspeople in French luxury, DS Automobiles is demonstrating its expertise with its interiors.
Inspired by the metal bracelet of a luxury watch, made from a multitude of parts fitted together, the DS Automobiles team created a seat base and back from a single piece of leather and without a bead of stitching, to create incredible comfort. The seat is made of high-density foam with more material than for a traditional seat. Comfort is better and maintained as the years go by with denser material. Laid flat, the piece of leather measures 450 millimetres sideways.
After shaping, it's reduced to 60 millimetres. The very high-quality Nappa leather comes straight from cows raised for their meat, living in fields without barbed wire. On the 4 millimetres of thickness, only the highest quality part, the grain of the leather, is used. This new thickness is then mass dyed with a special colour: Basalt Black or Pearl Grey. Massaging, heated and cooling functions complete the seat's comfort.
The Nappa leather covering the seats wraps the door panels, dashboard and centre console too. The airbag also gets a Grain Leather finish. The trim, with "Pearl" stitching and the "Clous de Paris" embossed inserts sign off the work by the DS Automobiles craftspeople.
Standard equipment includes DS ACTIVE SCAN SUSPENSION controlled damping (on E-TENSE versions), DS DRIVE ASSIST level 2 semi-autonomous driving, the DS IRIS SYSTEM infotainment system, the new DS PIXEL LED VISION 3.0 headlamps, active safety brake controlled by camera and radar, front and rear parking sensors with reversing camera, heated, massaging and cooled front seats, electric rear bench, extended dual-zone automatic climate control with a control panel for the rear seats and anti-allergen filter, heated windscreen, electric panoramic sunroof and laminated acoustic side windows.
RIVOLI: the soul of the leatherworker
With the Basalt Black leather upholstery made out of Claudia leather, the RIVOLI interior introduces a cockpit with more pronounced grain and trim in the spirit of the leather worker.
Primary standard equipment is DS ACTIVE SCAN SUSPENSION controlled damping (on E-TENSE versions), the DS IRIS SYSTEM infotainment system, the new DS PIXEL LED VISION 3.0 headlamps, active safety brake controlled by camera and radar, front and rear parking sensors with reversing camera, automatic dual-zone climate control.
PERFORMANCE LINE and PERFORMANCE LINE +: hushed dynamism
In its PERFORMANCE LINE and PERFORMANCE LINE + specification, new DS 7 introduces Deep Black Alcantara® upholstery on its seats, door panels, dashboard and centre console. The steering wheel is covered in perforated grain leather with Gold and Carmine stitching.
In addition to the equipment available throughout the range, PERFORMANCE LINE adds a middle rear armrest with ski flap, aluminium pedals and footrest, Carmine wheel centres and a special DS badge on the bonnet. The PERFORMANCE LINE + version adds the new DS PIXEL LED VISION 3.0, reversing camera, electric front seats as well as a Black Pack including the DS WINGS, window surrounds, roof bars, grille and badges in Black.
BASTILLE: the essence without compromise
The Bastille specification introduces an interior in Peruzzi Bronze Cloth, with trim in scale-effect DS Mistral Canvas. This is inspired by the grain of the skin of a fish by offering a surface as soft as it is tantalising to the touch. The Basalt Black Leather interior is available as an option.
In this configuration, New DS 7 gets plenty of safety equipment, notably cruise control and a speed limiter with lane keeping assist, blind spot monitoring and camera-controlled active safety brake. Automatic headlamps, automatic front windscreen wipers are also standard.
On E-TENSE versions, the DS ACTIVE SCAN SUSPENSION controlled damping is standard too, as is the DS IRIS SYSTEM infotainment system, whatever the powertrain.
New DS 7 E-TENSE 4×4 360 LA PREMIÈRE
For the launch of New DS 7, a limited edition New DS 7 E-TENSE 360 LA PREMIÈRE is being offered. Based on DS 7 E-TENSE 4×4 360 OPERA it showcases a special Gloss Black front valance, black logos and special badges to go with the Gloss Black exterior trim on the DS WINGS, the grille, the window surrounds and the roof bars. Basalt Black and Pearl Grey interiors are available. Two charging cables (type 2 and type 3) are standard. Six bodywork colours are being offered: Lacquered Grey, Sapphire Blue, Pearl White, Perla Nera Black, Platinum Grey and Crystal Pearl.
DESIGNED IN FRANCE AND ALREADY ON SALE
A global car, New DS 7 is built in Mulhouse (France) for all markets outside China and in Shenzen for the Chinese market. Orders and deliveries can be made without going anywhere, through an online sales system and the availability of New DS 7 through the DS DELIVERY VALET service, at the address chosen by the customer.
Examples of prices in France
New DS 7 BlueHDi 130 Automatic BASTILLE: 44,700 euros
New DS 7 E-TENSE 225 PERFORMANCE LINE: 55,100 euros
New DS 7 E-TENSE 4×4 300 RIVOLI: 64,600 euros
New DS 7 E-TENSE 4×4 360 LA PREMIÈRE: 78,400 euros