Mitsubishi Motors Celebrates Partnership with Nashville Entrepreneur Center by Awarding Loan of 2022 Eclipse Cross to Local Entrepreneur
Small Batch – Big Ideas Program concluded on Sept. 16, with co-hosted event, and Nashville-based entrepreneur Mel Taylor driving off in a new Eclipse Cross
Mitsubishi Motors North America, Inc. (MMNA) announced today that it will award Mel Taylor the lease of a 2022 Mitsubishi Eclipse Cross for six months. Taylor is a Nashville-based entrepreneur and CEO of vehicle technology company splitsecnd and the winner of MMNA's Small Batch – Big Ideas Entrepreneur Network project. The announcement comes at the end of a year-long partnership between MMNA and the Nashville Entrepreneur Center (EC) to create the Small Batch – Big Ideas Entrepreneur Network.
Produced jointly by MMNA and the EC, a small cohort of local entrepreneurs were given direct access to MMNA executives and the company's business partners for in-depth, one-on-one, co-learning time. At the core of the program was Mitsubishi's "small batch" ideology, which speaks to its place as a small, challenger automotive brand in the U.S. market, but also the idea that small companies can punch above their weight when they think differently, act nimbly and take risks. It is this spirit that, Mitsubishi feels, aligns the company with entrepreneurs.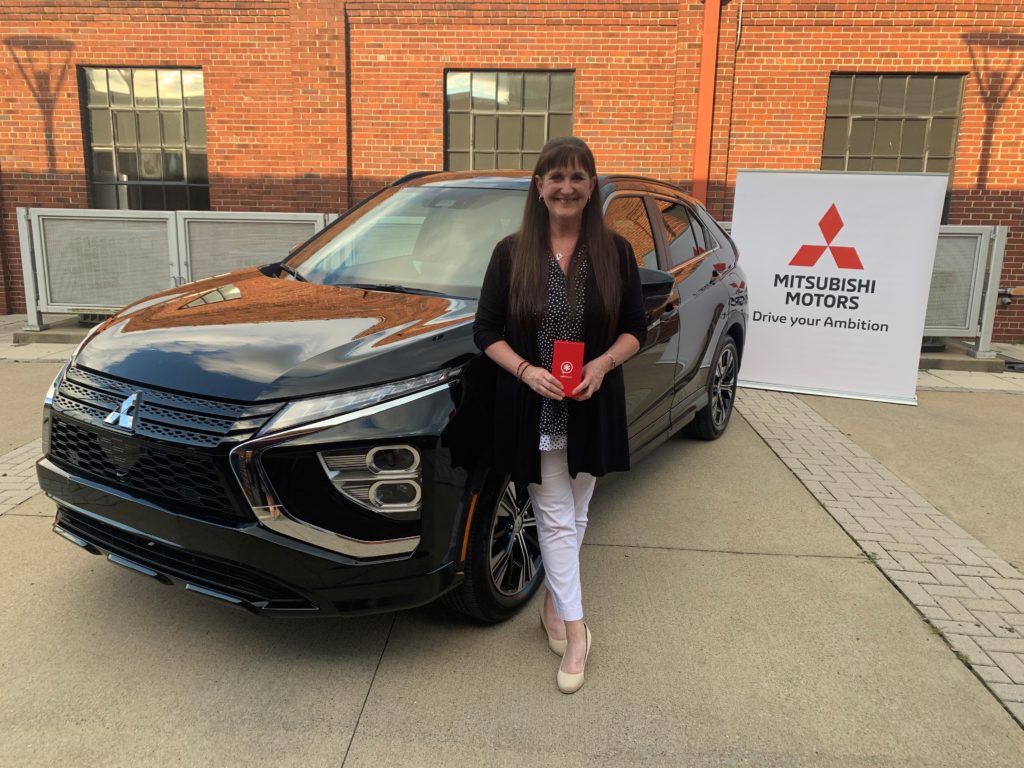 "Mitsubishi Motors celebrates individuals who choose to do things differently and think outside the box," said Mitsubishi Motors Chief Operating Officer Mark Chaffin. "After 38 years in Cypress, California, Mitsubishi moved its U.S. headquarters to Franklin in 2019. Partnering with the Nashville Entrepreneur Center was the perfect way to fuel the creative energy that drives Nashville, which we felt was especially necessary during a pandemic, and introduce ourselves to our new hometown in an authentic way."
The project kicked off with a pitch competition in October 2020, and it was Mel Taylor's personal story that earned her the grand prize. Her product is a portable device, that, once plugged into a vehicle's 12V outlet, can provide real-time location tracking, crash detection, access to a 24/7 emergency call center, and more. With smart phone and smart-home integrations, users can locate family – elderly parents, teens etc. – and business owners can locate delivery staff with simple voice commands.
The partnership formally concluded with a co-hosted event at the EC on Sept. 16, after which Taylor drove away in the 2022 Eclipse Cross – splitsecnd on the dash, of course.
"I am a mother and a daughter, and I founded splitsecnd to keep drivers and families like mine safe and connected on the road, and ultimately, to save lives." said splitsecnd CEO Mel Taylor. "I am so appreciative that Mitsubishi Motors took the time to get to know me and my business, and I am confident I've made connections that will help me in the future, as splitsecnd continues to grow."
The EC is a nonprofit organization founded in 2010 to serve entrepreneurs through all phases of the entrepreneurial lifecycle by connecting them with critical resources to create, launch and grow businesses. In appreciation of the partnership, Mitsubishi Motors extended its VIP purchasing options to all Entrepreneur Center members.
Eclipse Cross is Mitsubishi's sleek-and-sporty SUV. Like splitsecnd, it exemplifies connectivity and safety. A new eight-inch Smartphone-link Display Audio system, offering drivers more ways to stay safely connected while on the road, comes standard with Apple CarPlay®1 and Android Auto™2 integration. Additionally, the 2022 Eclipse Cross was awarded a 5-Star Overall Safety Rating, the highest-possible overall rating a vehicle can obtain, from the National Highway Traffic Safety Administration.
You may also want to check out The 15 Most Popular Luxury Car Brands In 2021: The Top Manufacturers Of Luxury Cars That Are Revving Online Right Now.