DS TECHEETAH, A. Félix Da Costa and J.-E. Vergne still in competition for the Formula E titles!
It has been written in the books: the fight for the first ABB FIA Formula E World Champions titles will go down to the wire, up to the last lap of the last race of the season, to be held tomorrow. As anticipated, Round 14 was not decisive and only some of the title contenders were 'skimmed' from the list of candidates today. DS TECHEETAH, thanks to a very solid race which yielded valuable points, will go into the final battle having reduced significantly the gap in the standings.
Six teams are still in contention for the Teams' title, with DS TECHEETAH now second, only 5 points from the top. In the Drivers' standings, António Félix Da Costa, who today finished 7th, is 7th, only 9 points behind the leader, while Jean-Éric Vergne, today 6th, is 9th, 15 points from the top. No less than thirteen drivers are still in competition for the title.
On a glorious summer Saturday at the beautiful 2.335 track in the historic Tempelhof Flughafen, the DS E-TENSE FE21 shone in qualifying, with both Vergne and Da Costa topping their respective groups (2 and 1) and securing first row on the grid in Superpole.
The start was trouble free for the DS TECHEETAH duo, which held the lead throughout the initial phases of a very compact field. The safety-car was deployed in lap 12 to recover cars involved in an incident, and a couple of laps after the restart, Da Costa took the lead from Vergne. Unfortunately, both cars experienced difficulty to keep the pace of the opening laps, having to concede few positions to competitors. A good use of the attack mode and a strategic drive from both drivers allowed Vergne to finish 6th right ahead Da Costa, scoring very precious points.
The second race of the Berlin E-Prix, which will be the 15th and decisive round of Season 7, will kick-off on Sunday at 15:34, with competitors using the track clockwise, opposite to today.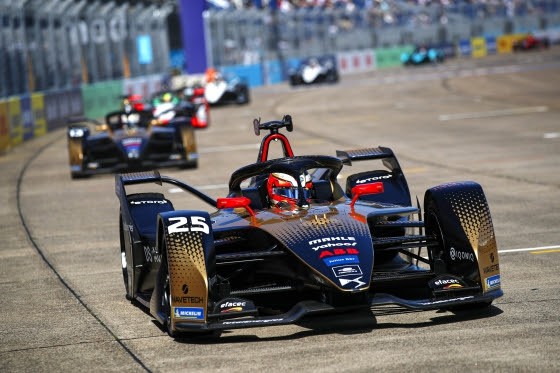 "Not the best race today, honestly. It was good in the first part, as we were leading, but after the team order to swap cars, I found myself in traffic, against a lot of cars in their attack mode, and I lost a lot of time in the process, eventually taking P6. It's a shame but we still have one race tomorrow, and we still have good chances. Now, let's reset the mind and get ready for the decisive race." – Jean-Éric Vergne, P6
"It was a good day up until half-way in the race, then we struggled a bit, with energy and tyre management. It was a difficult end of the race, but still, we could score some points and reduce the gaps in the standings. We are still alive and we'll try again tomorrow!" – António Félix da Costa, P7
"Our one lap pace in qualifying started the weekend in a promising way which put us in a good standing for the race. As we proved from last year in Berlin the drivers are well versed at running at the front in formation. Unfortunately the timing of the swap landed our drivers in traffic causing us to slip back. We brought home valuable points for the team and we now focus on tomorrows race." – Mark Preston, DS TECHEETAH Team Principal
''Today's race proved again how demanding Formula E is… After a fantastic performance from the team in qualifying, with an all-DS TECHEETAH first row, we had a difficult race. Still, we harvest very important points and we are still in the race for the championships. We are only five points away from the top among Teams, it is not a lot and we know that our DS E-TENSE FE21 can take up the challenge!" – Thomas Chevaucher, DS Performance Director