DS 7 CROSSBACK ÉLYSÉE: Symbol of Savoir-faire serving the French President
Since the declaration of the 5th Republic, DS and SM, then DS 5 and DS 7 CROSSBACK have been used by seven presidents. At his inauguration in 2017, Emmanuel Macron went down the Champs Elysées inside DS 7 CROSSBACK PRÉSIDENTIEL. In this new version, DS 7 CROSSBACK ÉLYSÉE has a 300 horsepower E-TENSE plug-in hybrid power unit with four-wheel drive and Ink Blue paintwork.
To meet the President's specification, DS 7 CROSSBACK ÉLYSÉE has been elongated by 20 centimetres behind the B pillar to become a work implement, like a mobile office. Leg room reaches as much as 545 millimetres.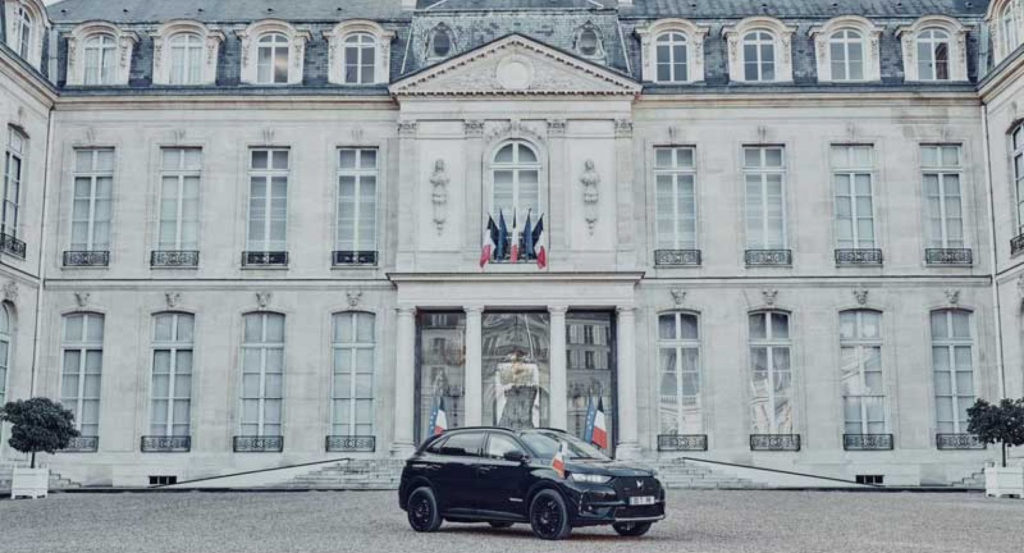 The rear bench has been replaced by two individual seats. The Basalt Black leatherwork adopts the DS Automobiles watchstrap signature. An elbow rest separates the two seats beneath an exclusive Alcantara® headlining. The development is completed by wireless chargers and USB ports and an open central document holder.
The colors of the DS 7 CROSSBACK ÉLYSÉE
DS 7 CROSSBACK ÉLYSÉE stands out with blue/red flashing lights at the front, its detachable flagholders, its "RF" badges on the bonnet, front doors and boot as well as its special 20-inch wheels and a shark's fin antenna for the President's special telecommunications system. The overall length is now up to 4.79 metres with a wheelbase up by 20 centimetres to 2.94 metres. The width remains identical at 1.91 metres, as does the height at 1.62 metres.
DS 7 CROSSBACK ÉLYSÉE will make its first appearance during the ceremonies commemorating the 11 November 1918 armistice, marking its entry into the French President's fleet.
REMEMBER
DS Automobiles continues to be the French President's brand with DS 7 CROSSBACK ÉLYSÉE.
With a wheelbase lengthened by 20 centimetres, a plug-in hybrid power unit and special equipment such as built-in armour plating, DS 7 CROSSBACK ÉLYSÉE is becoming a new work implement for the President.
SEE ALSO: 10 Must-have Features Of A Family Car